1 Day Incentive

Heli-transfer from Queenstown marvelling at the magnificent views over the Wakatipu and Cromwell basins. Land atop the Kopuwai Old Man Range for delicious luncheon with locally grown and freshly squeezed juices.
A short scenic hop will see you disembark trackside at Highlands where groups rotate through Pro-drive and U‑drive activities on and off-track. Supercar fast laps, Go‑karting, Fast Taxi and Blindfold Buggies for starters. Simply salivate as your delectable lunch is cooked before you in Stoakers (retired pinot noir wine barrels).
Your helicopter awaits with a scenic transfer over the pulsing heart of the Central Otago wine region, across Lake Dunstan to a stunning winery. Choose from a 4WD experience, planting out natives, or simply soak up the ambience of this place.
Finish the day with a road trip to one final spectacular vista to enjoy an evening meal - winery/restaurant/marquee - catering around here is as adaptable as the people!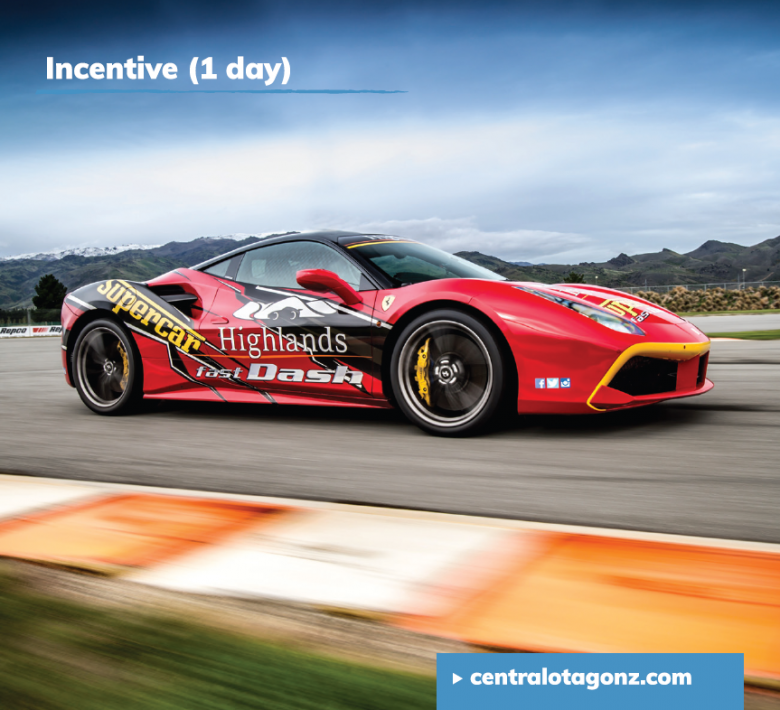 1 Day Pre / Post Itinerary

Recharge your mind and soul with a pleasant excursion along Central Otago's newest experience, the Lake Dunstan Trail.
Gently explore the 13km lake shore cycle ride between Cromwell and Cornish Point and take time out to visit the abundant wineries and cellar doors of Bannockburn along the way.
Continue into the gorge to view stunning feats of engineering as you approach cantilevered bridges bolted to the side of the sheer schist rock walls above Lake Dunstan and impressive views of Central Otago's rugged terrain.
End your trip at Carrick Vineyard for a late afternoon pick-up and perhaps a final glass of pinot noir.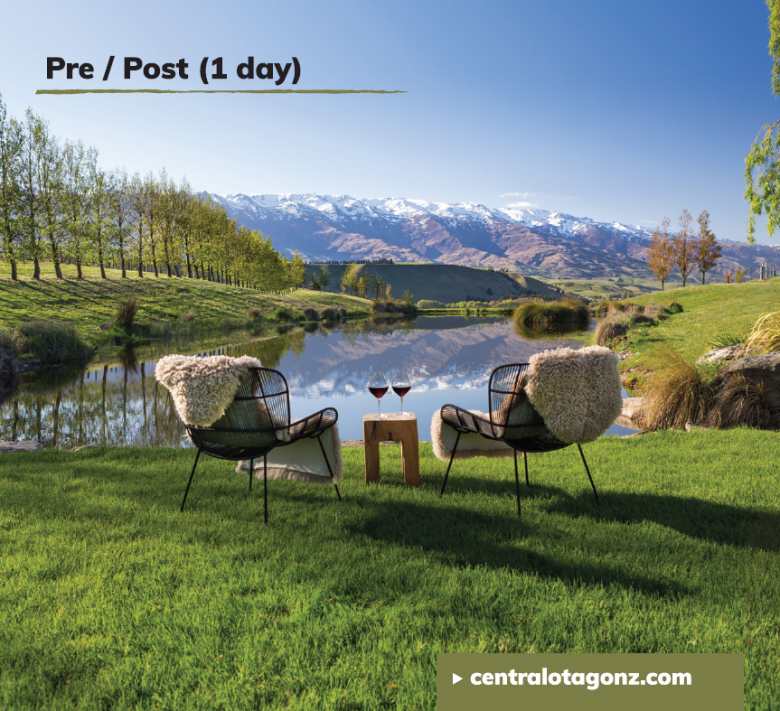 2 Day Pre / Post Itinerary

This is the perfect option for people wishing to experience the most scenic parts of the Otago Central Rail Trail with limited time available. The easy gradient takes you amid amazing scenery, through tunnels and over viaducts. Along the way are historic hotels to visit, wonderful cuisine to experience and local characters to meet.
Start your adventure in Clyde with bike fitting and safety briefing. Then be transported to Omakau where your cycle ride begins, through the Ida Valley, made famous by the paintings of Grahame Sydney.
From Wedderburn the ride is mostly downhill to Ranfurly, the art deco capital of Otago. The scenic section between Daisybank and Hyde provides the day's highlight before the mid-afternoon pick-up takes you back to Clyde.
Package also available in the opposite direction.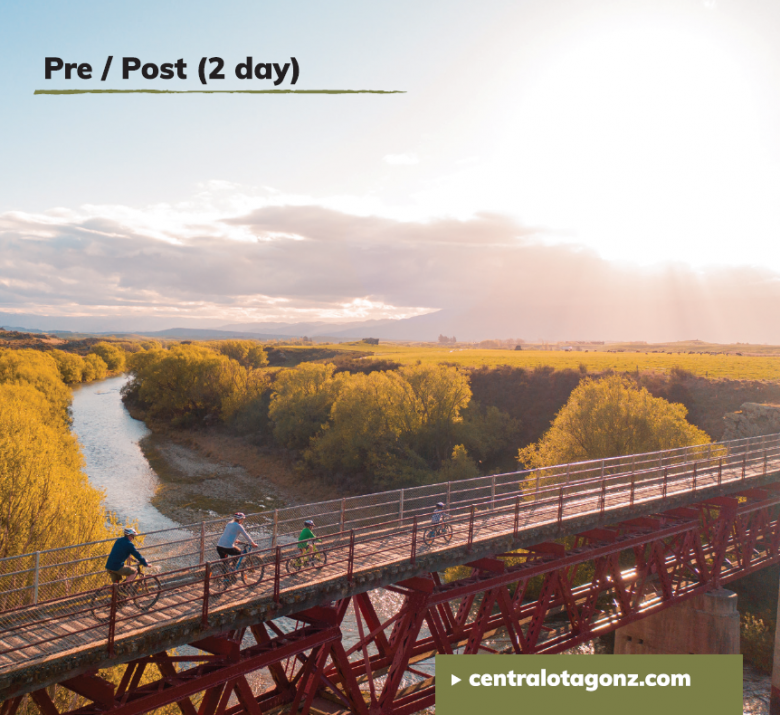 3 Day Incentive

Day 1 - Highlands team-building track adventures with Go-Karts, Blindfold Buggies, Fast Laps, Batak Challenge and plenty more to choose from. Round off your lunch with visits to Tasting Rooms – there are over 50 cellar doors in Central Otago.
Day 2 - Morning 'Power Hour' or 'Breathe' then native planting of seedlings from a local 400-year-old Kowhai tree. Alternatively, experience the new and phenomenal Lake Dunstan Trail by foot or by bike. Alfresco winery lunch with speaker before heading into your curling challenge, wound up with a distilled beverage tasting over dinner.
Day 3 - With team refreshed, spend a day on business discussions. Then for the evening celebrate with delicious locally grown food, world-class wine, breath-taking views and some dancing as the starry night unfolds.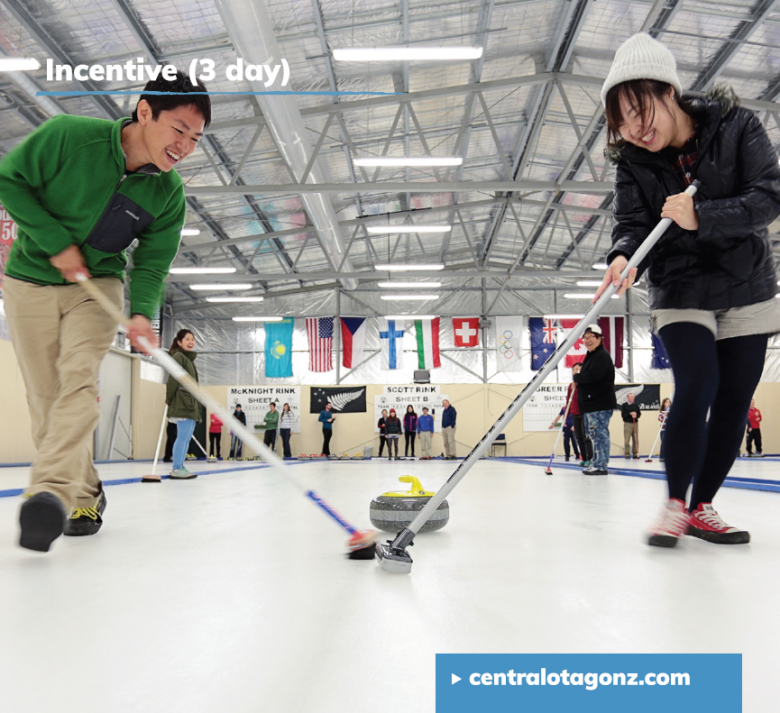 3 Day Three Trails Deluxe

An independent 3 day cycle adventure combining 3 impressive Central Otago cycle trails: Otago Central Rail Trail, Roxburgh Gorge Trail and Clutha Gold Trail.
Day 1 - Explore the famous Otago Central Rail Trail cycling mainly downhill from Auripo to Alexandra. This section takes in one of the most scenic parts of the trail, the Poolburn Gorge.
Day 2 - Experience the Roxburgh Gorge Trail, an incredible ride with spectacular scenery, including an informative 13km jetboat ride passing eroded bluffs and old gold workings.
Day 3 - The Clutha Gold Trail starts at the Lake Roxburgh Dam and offers a gentle ride on a great surface through lush scenery comprising lush farm and horticultural land, following the majestic Mata-au Clutha river.