As the name suggests, Central Otago is 'Central to Everything'
Flying into Central Otago

Non-stop flights arrive into both Queenstown and Dunedin airports daily.
From there, pick up a rental car to self-drive or sit back and relax as your driver whisks you away from the traffic woes of urban centres into the majestic scenery of Central Otago.
Mountains, lakes, rivers and valley vistas open up, while low traffic volumes allow old style courteous drivers to give you a wave.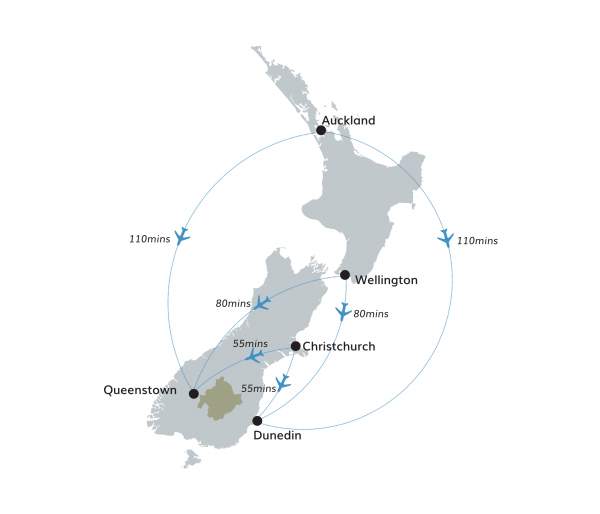 Driving to Central Otago

Flights arrive into both Queenstown and Dunedin airports daily. From there, an easy drive forms part
of the journey. Pick up a rental car to self-drive or sit back and relax as your driver whisks you
away from the traffic woes of urban centres into the majestic scenery of Central Otago. Mountains, lakes, rivers and valley vistas open up, while low traffic volumes allow old style courteous drivers to give you a wave.
If it feels like you're driving through a painting you probably are. Whatever direction you're heading, you'll be
blown away by the stunning scenery

OUR REGIONAL VALUES