The Lake Dunstan Trail is a purpose built 55km cycling and walking trail that traverses some of Central Otago's most dramatic landscapes & scenery. It's New Zealand's latest Great Ride and has quickly become one of the most popular trails in the country.
However, a large part of the trail is in remote terrain with some challenging grade 3 sections only suitable for confident, experienced cyclists and which are not recommended for most children under 12 years old.
To understand what to expect and to help plan for a safe and enjoyable ride, then read more below or click here to watch a short safety video.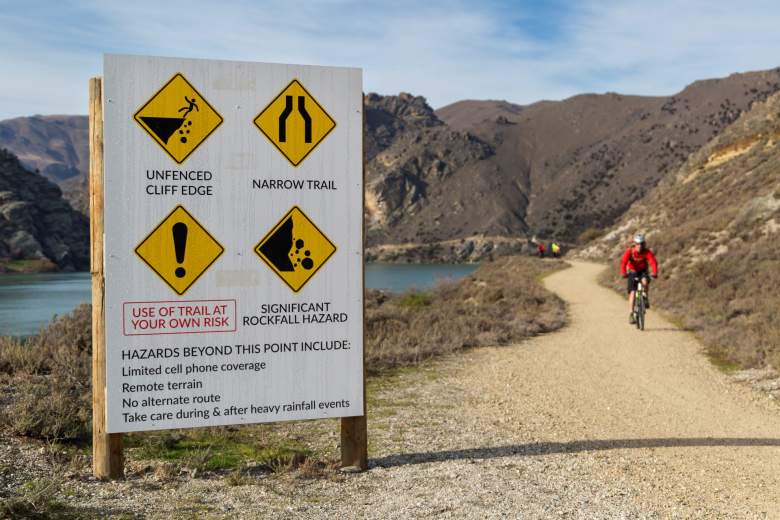 LONG AND REMOTE

In total, the Lake Dunstan Trail is 55km long with a vertical ascent of 580m. It takes between 4 to 5 hours to complete (one way). The trail includes some remote and rugged terrain, with long climbs, and exposed, narrow sections of track.
The 25km section between Clyde Dam and Cornish Point is particularly remote with no alternate route or road access. There is no fresh water available here to refill bottles. The trail is exposed to the elements and there is no shelter in bad weather or shade from the sun in the summer. Cell phone coverage through this section is intermittent.
So, you must carry everything you need to be self-sufficient during your ride and always wear a good quality helmet.
Consider carefully if you have both the fitness and experience to ride the trail safely. Ensure your bike is mechanically sound and that E-bike batteries are fully charged and have the range to complete the trail... otherwise it could be a long walk home!
If you're not confident that you have the skill or fitness to complete the more difficult sections of the Lake Dunstan Trail, its recommended that you remain on the easier grade 1 and grade 2 sections between Smiths Way near Pisa Moorings and Cornish Point. Along these parts of the trail there's easy access to a variety of great cafes, restaurants, and wineries, as well as idyllic picnic spots for a safe and relaxing day out.
A GRADE 3 RIDE

The Lake Dunstan Trail includes technical grade 3 riding with sharp corners, narrow sections along exposed cliff edges, as well as steep ascents and descents. These grade 3 sections are only suitable for experienced riders and are not recommended for most children under 12 years old, or older kids with limited riding experience or fitness.

If you're unsure whether you or your family has the skills or stamina to ride the whole trail, consider staying on the easier sections closer to Cromwell or Bannockburn, where you're never too far away from an ice cream or cold drink!
To understand more about the different trail grades, click here.
This is a two-way track, so always be prepared to meet riders coming the other way and keep left.
A good bell on your bike is essential, especially on blind corners to warn others of your approach. Please pay attention to the safety signage along the trail.
The trail can be busy at peak times and you're likely to be sharing it with other users such as hikers, runners and in some places dog walkers or even farm animals! So please slow down and be courteous to other trail users.
If you're new to cycling, find out more about good biking etiquette here. Your fellow cyclists will thank you!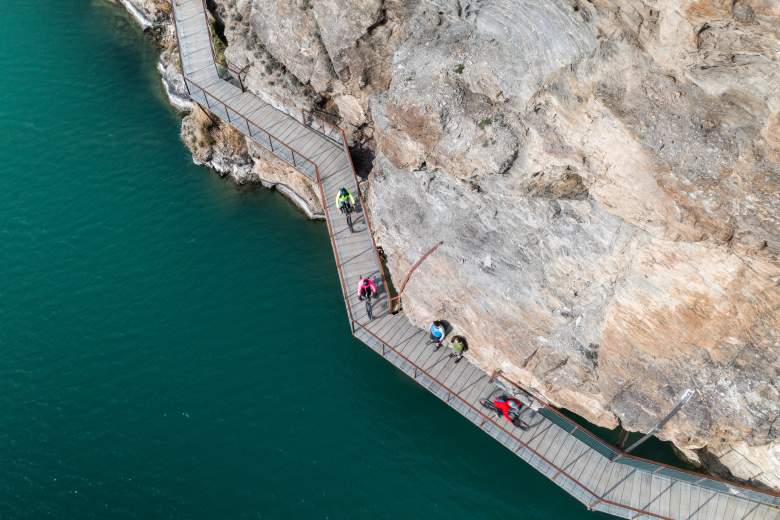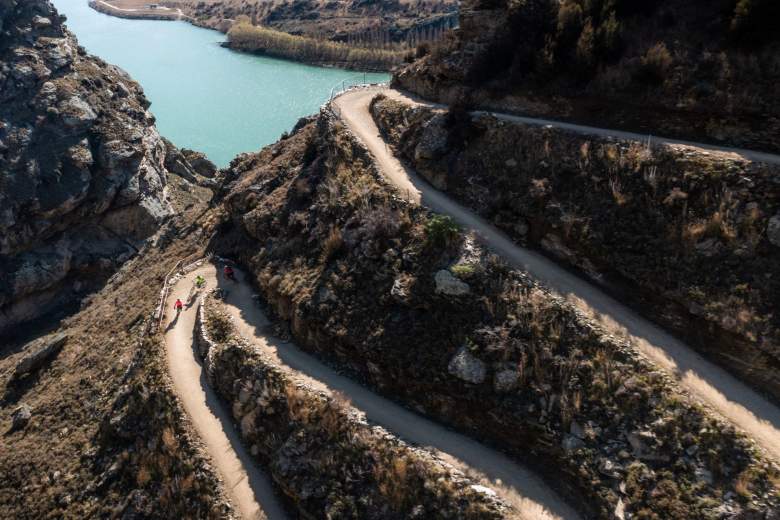 WEATHER - BE PREPARED

The Lake Dunstan Trail is well maintained and can be ridden year-round. But the weather can change quickly so be prepared with the right gear and always check the weather forecast before you depart.
Whilst Central Otago has a very dry climate, which makes it ideal for riding the trails, it can be the hottest part of New Zealand in summer and one of the coldest in winter. Sections of the Lake Dunstan Trail can be exposed to strong winds which can be a hazard for riders, and with limited shelter from the elements available, it's better to postpone your trip if bad weather is expected.
BE PREPARED WITH THE RIGHT GEAR

Parts of the Lake Dunstan Trail are very isolated, so you'll need to be self-sufficient and carry everything that you might need with you.
Always wear a helmet and carry a basic toolkit, including a pump and spare tubes. Sunscreen, sunglasses and at least 2 litres of water per person is needed in the summer as there is nowhere to refill bottles on the trail. A small first aid kit is also a good idea.
Enough snacks or a picnic lunch to fuel you on your adventure is important and, of course, wet and warm weather clothing depending on the season and weather forecast.
It's recommended that you should carry at least one form of communication on your ride. Be aware that there is limited cell phone coverage along some remote parts of the trail. Consider carrying a personal locator beacon (PLB) with you, and always let someone know your plans and intentions.
Read more about the right clothing, gear, and tools to pack.
A WORD ON E-BIKES

E-bikes are great but can be heavy and cumbersome on narrow trails or in strong winds, especially for inexperienced riders. If you haven't ridden an E-bike before, it's a good idea to begin on the easier grade 1 sections of the trail, or on a track like the Otago Central Rail Trail to help build your skills and confidence.
Ensure that your battery is fully charged and has the range to complete the full distance of your planned ride.
With no alternate route or vehicle access to a large part of the Lake Dunstan Trail, you must be prepared and able to ride or push your E-bike in the event of a flat battery or power malfunction.
Remember, an E-bike can only assist with your pedalling effort, it does not help improve your technical skills on more demanding or challenging trails.
NOTE: there is nowhere to recharge your E-bike battery on the Lake Dunstan Trail.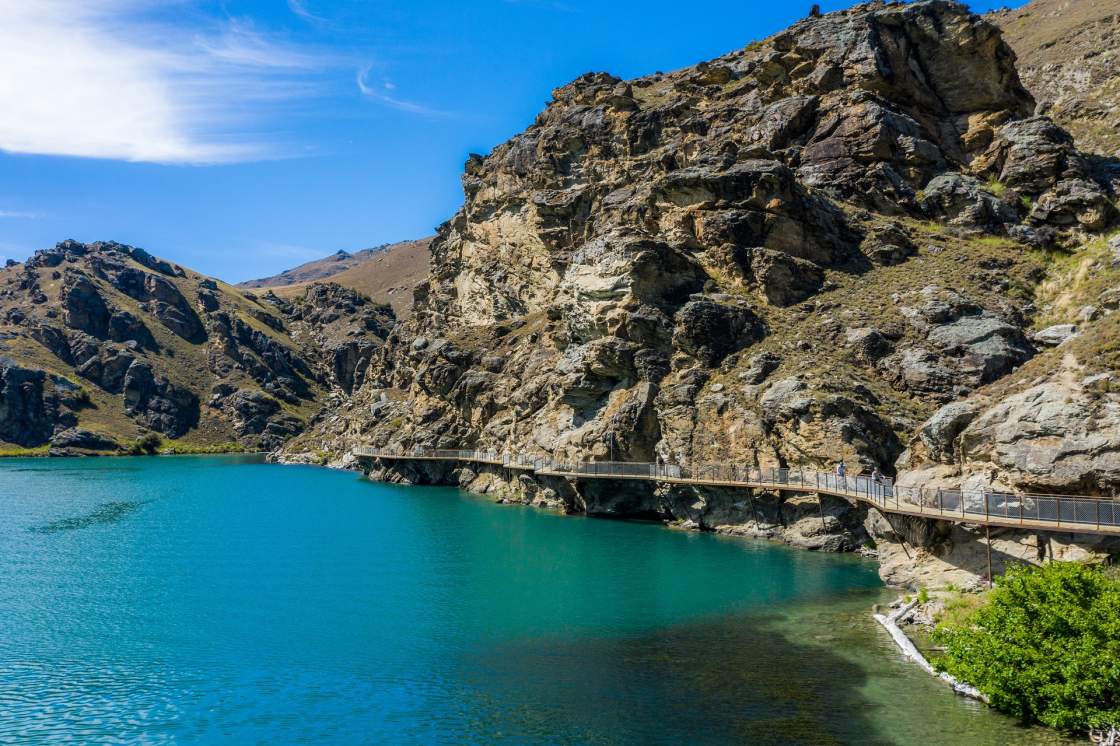 SUPPORT THE TRAIL
The Lake Dunstan Trail is managed by a registered charity, the Central Otago Queenstown Trails Network Trust. If you have ridden and enjoyed the Trail, you can help support its upkeep and maintenance by making a donation to the Trust here. Thank you.
Or, please help us improve the trail experience and tell us what you think by completing a trail survey.
HAVE FUN AND BE SAFE!

For experienced and well-prepared riders, the Lake Dunstan Trail is an unforgettable adventure. But if you don't feel confident remember there are lots of other easier trails in Central Otago to experience.
We hope that this information helps you prepare for your ride. Above all, have fun and be safe.