Central Otago 'Must Do' Culinary Experiences

article written by Alexia Santamaria
One of the great things about eating out in Central Otago is that you're covered, no matter what your taste buds are seeking - from country-sized pies in pubs to high-end dining experiences, this region has everything for every mood.
Waipiata Country Hotel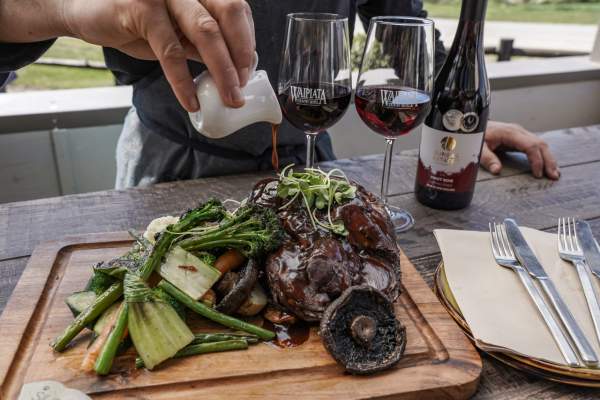 Pull up outside the Waipiata Country Hotel and you might see a mud-splattered ute parked outside. And some of the clientele could definitely be wearing gumboots. But don't let that fool you into thinking this is an average kiwi pub stop. Mark Button loves good food and even more, sharing that culinary passion with others.
While the food isn't fancy - no smears, mousses and gels on these plates - ingredients are all of the highest quality and everything is cooked to absolute perfection. The Silere Alpine Origin Merino Lamb Oyster Shoulder for two (marinated for 24 hours then slow-cooked overnight in Central Otago Pinot Noir), served with most perfectly roasted spuds, portobello mushrooms and seasonal steamed veggies and pan jus is sublime.
The other thing people come here for is the pies. They've been so popular they now ship them all over the country!
Olivers restaurant and bar
Olivers has multiple charms, and one of those is undeniably its historic appeal. Built in 1869 by merchant Benjamin Naylor it is recognised as one of Otago's most significant heritage buildings (category one classification from New Zealand Historic Places Trust).
Dine in for lunch or dinner, pick up some beer brewed right on-site or grab and go from the cafe/bakery where they also have a wonderful array of retail items (including their own house-made condiments and preserves so you can take a little jar or bottle of Central Otago back home with you) Oliver's have everything for every culinary mood or taste – whether you feel like a full evening meal by a fireplace, watching the talented chefs work in the open kitchen or a coffee in the courtyard.
It's also a wonderful place to stay, with a beautiful aesthetic and amazing breakfasts full of Central Otago bounty - attention to detail right through the property is unparalleled and there are plenty of hidden spots to enjoy moments of reflection and peace.
The Cloudy Bay Shed
The Cloudy Bay Shed at Northburn is the high-end dining experience of your dreams. While you may associate this brand with Marlborough, The Shed is unmistakably Central Otago - and even though you can drink anything from the range, the hero here is definitely Te Wahi, the stunning local Pinot Noir.
The Shed is one of those places that gets everything right and you're guaranteed to stay far longer than you expected - the design of the light airy space, the show-stopping art on the walls, the comfortable chairs, the super approachable and knowledgable staff and the next level menu all combine for an experience that makes you feel like you're somewhere very special.
Head chef Harry, turns out culinary magic on a plate using local produce in clever creative ways and eating things like grilled octopus with broad bean pesto, pancetta crisp, fennel, grapefruit and almonds or Royalburn Station Lamb Loin with lamb bacon, charred baby leek, brown butter hummus and mint salsa verde all while gazing out over the picture-perfect view of Lake Dunstan, Sugarloaf and the Pisa Range - this is an experience you'll never forget.
The Stoaker Room
It's hard not to love The Stoaker Room in Cromwell - it has a great casual vibe and is one of those places where groups of people always seem to be having a great time. But it's much more than atmosphere that makes this spot so popular - the food is pretty unique too.
Everything (right down to garlic and cheese) is steamed, baked, grilled and smoked in cookers made from French oak pinot noir barrels - does it get any more Central Otago than that?
The Stoaker Banquet is always a great option to share - a long board with delights such as local venison with kumara and cherry chutney; tandoori lamb rump with grilled veg and mint yogurt sauce; pork belly with potatoes, crispy shallots and aioli; pulled duck crouton with onion marmalade and spiced apple and salmon with smoked slaw and pineapple salsa (this may change seasonally but it will always be delicious).
Burger AFloat
When riding the Lake Dunstan Cycle trail, the last thing you'd expect to be able to buy is a burger (the terrain on the true right of Lake Dunstan is more schist and thyme than shops and restaurants) but Richard and Jolanda have that Central Otago 'why not' attitude which led them to set up a burger and coffee shop on a boat, accessible from the shore! (yes, you read that right)
This has to be one of the most remote, creative food outlets in the country; the burgers and butties are amazing - the couple tasted every burger in the region before deciding on their own perfect recipe and are exactly what you feel like eating when expending your energy along the Cromwell Gorge section of the trail.
Ingenuity, great food and wonderful warm welcoming service make this a truly unique culinary food experience and very Central Otago in flavour - the burger pattie is venison with thyme and served in a bun with smoked bacon, Swiss cheese (a nod to Jolanda's heritage), pinot pickled onions and Central Otago apricot relish.
Carrick Winery
There's so much to love about Carrick Winery. The views, the stunning range of organic wines and the fabulous menu full of local flavour.
Chef Gwen was named Top Chef at the 2021 Eat Taste Central festival and is committed to providing seasonal dishes that incorporate homemade, homegrown, locally sourced produce and game. Herbs, veggies and edible flowers from the kitchen garden on-site, eggs from the vineyard chickens, olive oil made from Carrick's own olive grove.
Order the rabbit croquettes if they are on the menu, when you're there. Local rabbit and wild thyme - you can't get much more Central Otago than that.
Bannockburn Hotel Wine Country Restaurant and Bar
The unassuming frontage of the Bannockburn Hotel definitely belies what's waiting inside. A menu of sharing food that might remind you of places you've visited in Victoria (co-owners Andy and Anna have definitely brought a little piece of Melbourne here after many years working in this culinary capital); an exceptional wine list with over 200 local and international treasures and friendly service that makes you feel like the only diners in the restaurant, even though it's always bustling. And then there are the views - settle in at a table outside and enjoy great food and wine with a gorgeous vista of the Bannockburn vineyards, Pisa and Dunstan ranges and the Cromwell valley to make it taste even better.
Guides to Where to Eat and Drink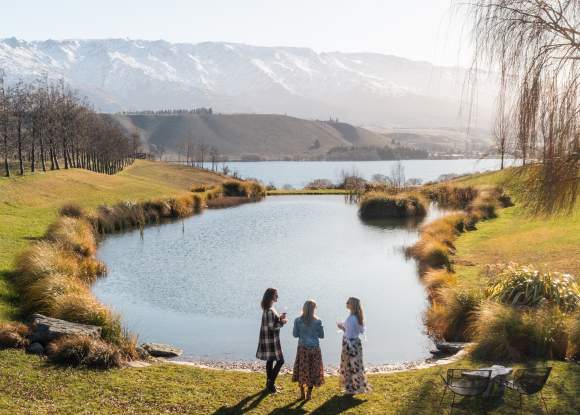 Where to Eat in Central Otago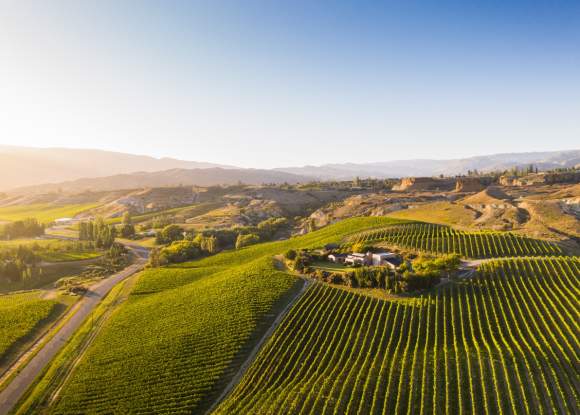 Where to Eat in Bannockburn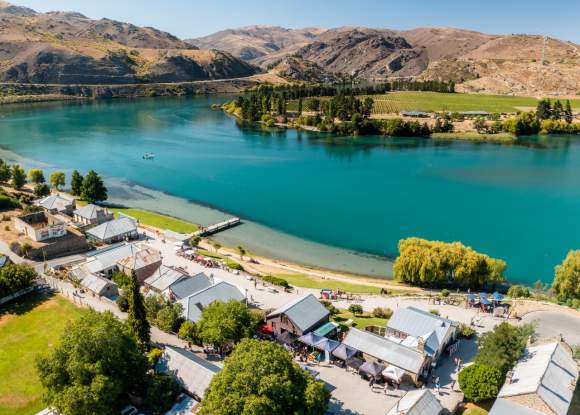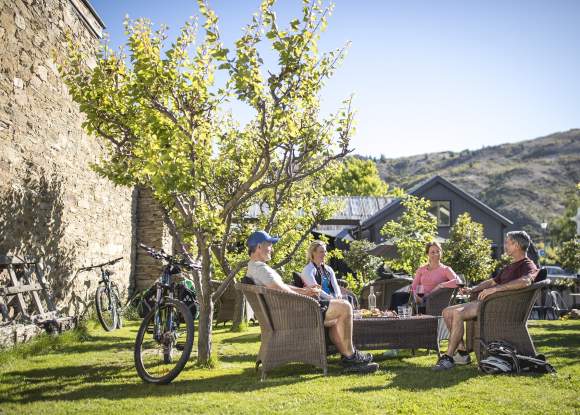 Where to Eat in Clyde & Alexandra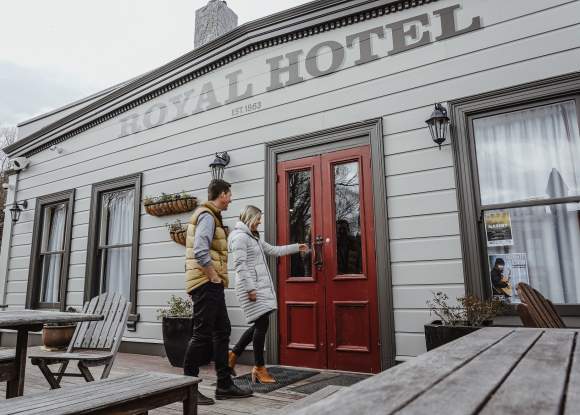 Historic Places to Eat in Central Otago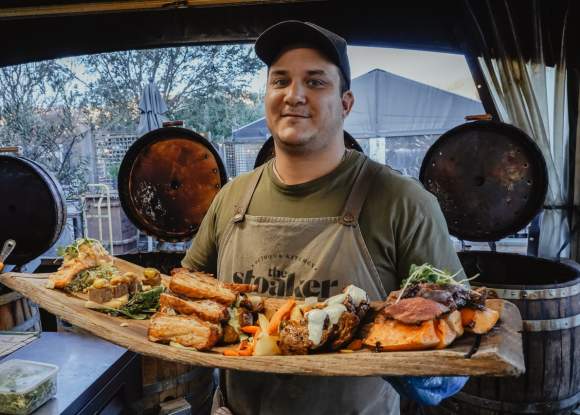 Five Must Do Foodie Experiences