article written by Alexia Santamaria
Bannockburn is a fascinating part of New Zealand's history, set in a ruggedly beautiful sub-alpine landscape. Crumbling stone houses and remnants of the mining industry provide a peek into the past and there are endless options to explore the area on foot or cycle. It seems almost everywhere you dine has a magnificent view of a river, mountains, vineyards, orchards or stark cliffs created by the search for gold.
Here are some great places to check out when hunger strikes. You won't be disappointed.
Bannockburn Hotel Wine Country Restaurant and Bar
From the outside, The Bannockburn Hotel probably doesn't look like somewhere with more than 200 fascinating wines on its list (more than 60 by the glass) and a menu that could be straight out of a trendy Melbourne eatery, but Central Otago is full of surprises. Anna and Andy Mackintosh came home from working for many years in Australia and London and have created a great space with first-class food, wine and views - and the kind of service that makes you feel like family. It's sharing plates, tapas-style with flavours inspired by the couple's time living and working across Europe and Latin America. There's a reason the New Zealand Restaurant Association awarded it Best Regional Restaurant for 2021-2022.
Burger Afloat
Surely New Zealand's most remote burger bar, you'll find Burger Afloat on the Cromwell Gorge section of the Lake Dunstan trail. Clever owners, Richard and Jolanda Foale, originally set up a coffee boat (after cycling the trail themselves and thinking how great it would be to have a coffee stop on the way) and have now expanded into food as well. Even better, their burgers are like a bite of Central Otago in one meal - the burger pattie is venison with thyme, served in a bun with smoked bacon, Swiss cheese (a nod to Jolanda's heritage) pinot pickled onions and Central Otago apricot relish.
Black Rabbit Kitchen & Bar
Black Rabbit is the place to go if you're looking for good hearty local food. Think steak, pasta, chowder, ribs and fish and chips. But they also turn out some really interesting local meat-based dishes like wild goat ragu, venison shanks- and their famous Black Rabbit pie (with slow-cooked rabbit and shitake mushroom ragu filling). This is the kind of place where everyone will find something they like, from little bites to full meals for big appetites. Comfort food at its finest.
Desert Heart
People fall in love with the food and wine at Desert Heart - especially the platters heaving with homemade goodness. There's nothing better than parking up at one of the outside tables and whiling away the afternoon over multiple glasses of pinot (they do a great wine slushie in summer too) picking away at things like pate, cornichons, beef tataki, roasted carrot and cumin smash, crostini with roasted grapes and whipped feta, edamame, marinated mushrooms, cheese and so much more. Sweeping vistas of the mountains, river and gold sluicing only make the food taste better and the friendly local hospitality makes it so easy to stay and stay.
Mt Difficulty
Locals love the panoramic views of Bannockburn and the Cromwell Basin from Mt Difficulty's cellar door and restaurant. On a fine day the outdoor terrace is the perfect place to soak up that special Central vibe and in winter you can still enjoy the views from behind the glass - with a roaring fireplace to keep you snug. Platters are popular (Cheese Board, Charcuterie Board or Breads & Spreads) but there's also a small, but great a la carte menu of lighter meals, main meals (including house-made pasta) and luscious desserts.
Carrick Winery
It's impossible not to love Carrick Winery. Obviously, the wine is great, but also the space and the food and the ethos of keeping things local. Chef Gwen was named Top Chef at the 2021 Eat Taste Central festival and is committed to providing seasonal dishes that incorporate homemade, homegrown, locally sourced produce and game. Herbs, veggies and edible flowers from the kitchen garden on-site, eggs from the vineyard chickens, olive oil made from Carrick's own olives all make an appearance. And the views! Looking out over the Bannockburn inlet of Lake Dunstan, Mt Difficulty and the Pisa mountain range will feed your soul, while the crew at Carrick feed your stomach.
Guides to Where to Eat and Drink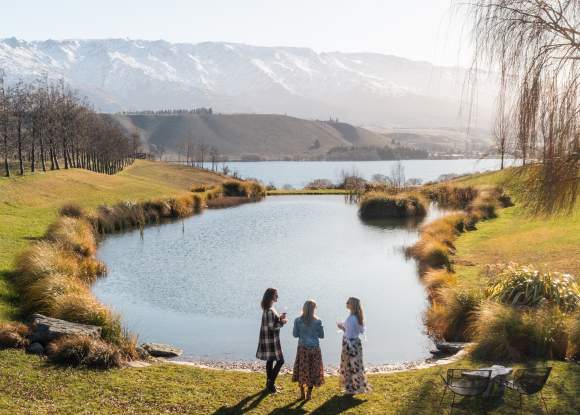 Where to Eat in Central Otago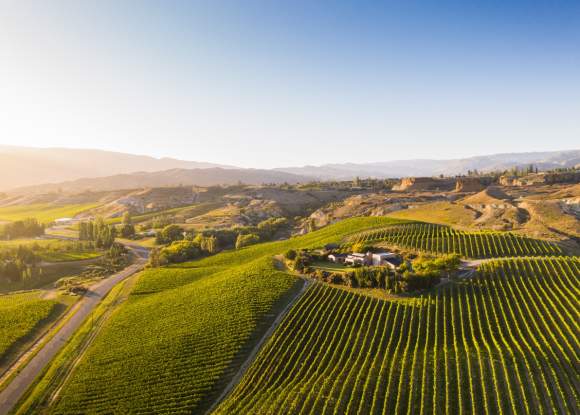 Where to Eat in Bannockburn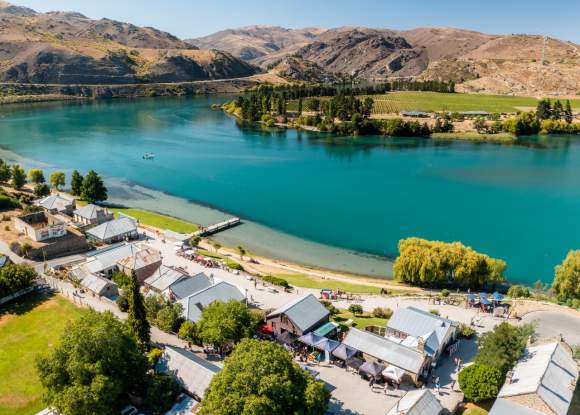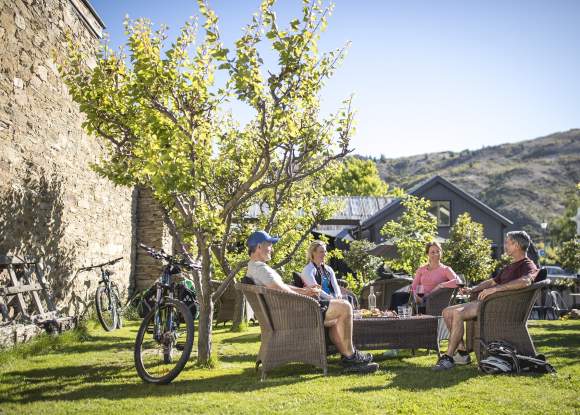 Where to Eat in Clyde & Alexandra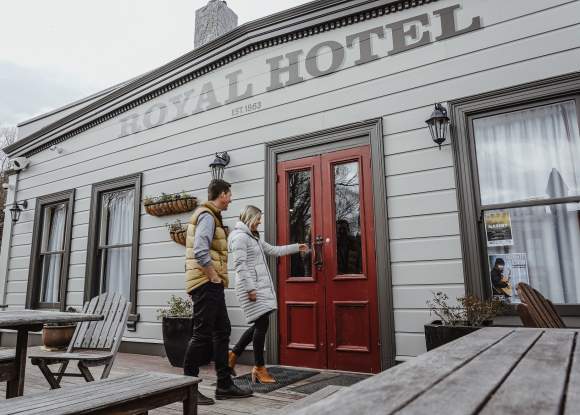 Historic Places to Eat in Central Otago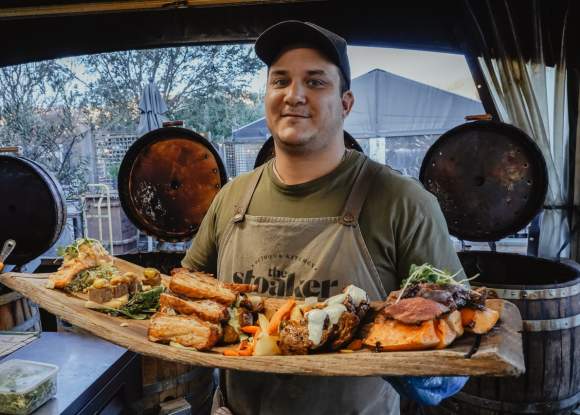 Five Must Do Foodie Experiences