article written by Alexia Santamaria
The history of Central Otago is truly fascinating, heavily influenced by the frenzy of activity the discovery of gold brought in the 1860s. Prospectors arrived from all over the world for a piece of the action, and towns were built to service everything that came with this sudden flush of wealth. Initial buildings were rudimentary - some only tents - but as time progressed gained more charm and style. The great thing is many have been well preserved to this day - even better, a lot now house excellent eateries so you can enjoy the culinary delights of Central Otago right inside a piece of its past.
Olivers
Central Otago favourite, Olivers, was built in 1869 in Clyde by merchant, Benjamin Naylor, and is recognised as one of Otago's most significant heritage buildings - with a category one classification from New Zealand Historic Places Trust. It's had several owners over its life but perhaps the most famous is Fleur Sullivan, beloved New Zealand hospitality icon, who named it Oliver's and put it on the culinary map. The current owners, Andrea and David Ritchie, have done a stunning job of restoration making it the most wonderful place to spend time - be it over a coffee and some baking, an aperitif in the courtyard, a full seated dinner in the dining room or to stay a night or two in the beautiful accommodation. You can also grab and go - bakery items, coffee and gourmet condiments from the store or even beer from the on-site brewery.
Royal Hotel Naseby
The Royal Hotel in Naseby was originally built in October 1863, but that first structure was wrecked in a storm two years later. The rebuilt hotel reopened in 1865, and in 1869 Cobb and Co began using it as its Naseby depot for mail and passengers. It's always been a place where people gather for food and good times and that hasn't changed to this day. It's the cosy country pub of your dreams with food that's way above expectations for pub grub in small town New Zealand. Expect the unexpected with great flavours and top-quality produce, including regeneratively-farmed Provenance lamb from just up the road at Shortlands Station.
Bannockburn Hotel
The Bannockburn Hotel established in 1862 popped up in its current building in the 1930s and was the proud holder of the first liquor licence granted in Central Otago. The surrounding land was mined extensively in the 1860s as prospectors followed gold up the creeks. Its walls undoubtedly have some great tales to tell and if you make your way through a good chunk of the 200 wines available (more than 60 by the glass, no less) you might even hear some of them. Jokes aside, this place is a must-dine spot when in Central Otago. Anna and Andy Mackintosh have created a wonderfully welcoming space with first-class wine, views and sharing plates, tapas-style - all influenced by years living, travelling and working in Europe Latin America and Australia.
The Old Clyde Bank
In 1861 a Bank of New Zealand building was erected in Clyde. Since then it's had quite the history, with several iterations before becoming the building it is today. The Old Clyde Bank operates as a cafe by day and on Friday and Saturday nights, extends to an evening restaurant as well. With Chef Werner at the helm (he was a chef at Mt Difficulty for 13 years) the food is always first-rate, clever and creative and the home baking is available all day - the sticky date cakes are sublime. Make sure you allow time to peruse the shelves of products that are all made on-site - so you can take a little bit of Central home with you in your suitcase. It changes seasonally but things like gherkin relish, bbq spice rub, vanilla nectarines, chai spiced pears and green tomato chutney are all very popular.
Dunstan House
Dunstan House (or the Dunstan Hotel as it was known) began its story back in 1863 when Clyde was largely tents. That year the original weatherboard building was built, including accommodation, dining, and Saturday night theatre complete with a brass band and dancing girls! It was also the booking office for Cobb & Co's coaches. In 1898 it was destroyed by fire but given its popularity, a replacement was soon built - an imposing Georgian-style building - the first of its kind in Central Otago. It closed as a hotel in 1937 but went on to become a private home and then a boarding house until the 1990s when it was then modernised. Current owners Meredith and Ian Kerrisk (since 2018) fast made it a popular daytime spot for locals. The staff are super friendly and the cabinet is always heaving with delicious treats like cinnamon scrolls, slices of cheesecake, and sausage rolls but also healthier options like salads, wraps and raw slices.
Pitches Store
The town of Ophir, on the banks of the Manuherikia River, was founded in 1863 and grew to become the biggest town in the Manuherikia Valley during the gold rush. These days it's a little quieter - a tiny town that includes New Zealand's oldest post office and some other well-preserved heritage buildings. Pitches Store started its life in 1863 and has been a general store, butchery, accommodation (which is also part of its current offering), garage, woodworking business and engineering business during its interesting life. These days it's a great place for lunch or dinner. The food is delicious and wonderfully seasonal – heroing local flavours - refined but relaxed.
Chatto Creek Tavern
First coming to life in 1886, the stone and mud brick tavern at Chatto Creek soon became the focal point of the local community, providing refreshment and food to the rabbiters and Otago Central Rail Trail construction workers and their families. The construction has stood the test of time and you'll still find lots of locals catching up in the sunny outdoor area or inside in the cosy pub, mingling with those riding the rail trail. The new owners have installed some fabulous sculptures including a massive brass hippo named Harriet that takes pride of place in the garden outside - make sure you say hi to the resident donkeys too. Food is hearty pub fare, perfect for fuelling up while cycling.
Guides to Where to Eat and Drink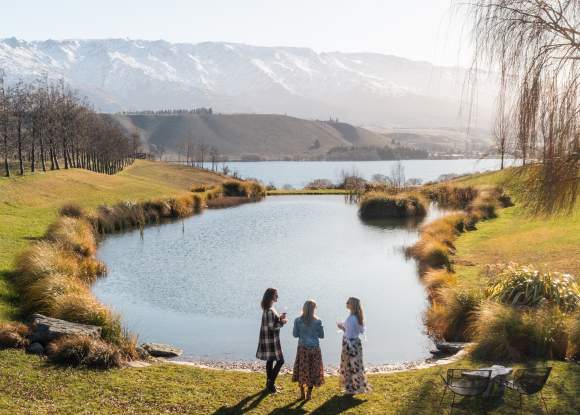 Where to Eat in Central Otago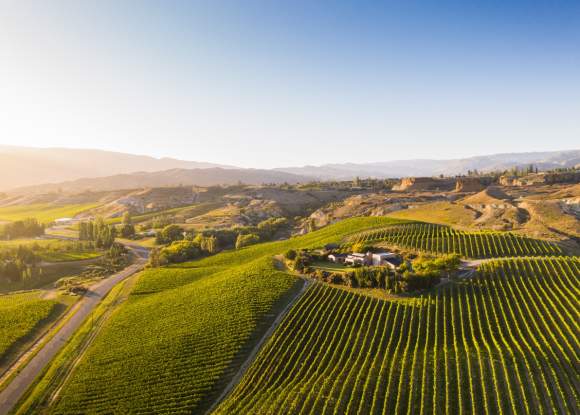 Where to Eat in Bannockburn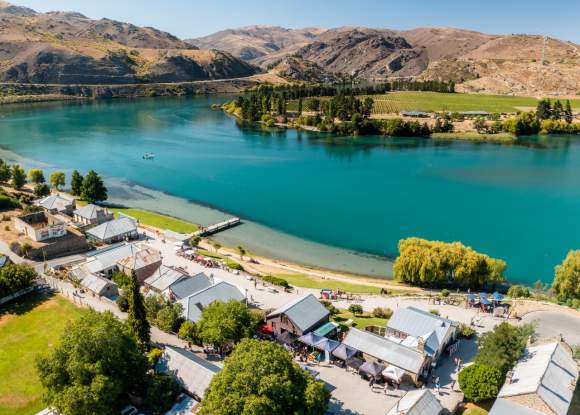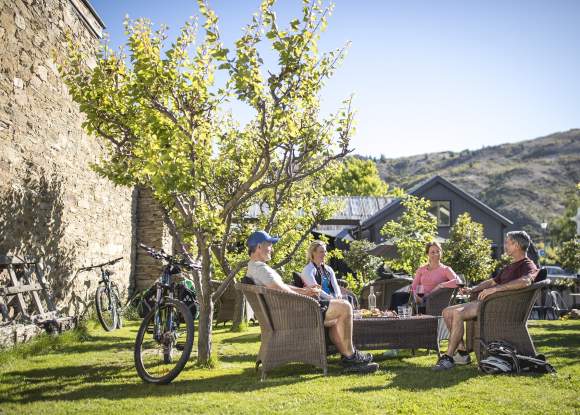 Where to Eat in Clyde & Alexandra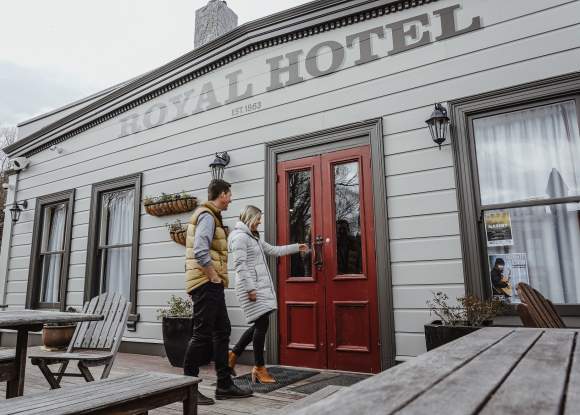 Historic Places to Eat in Central Otago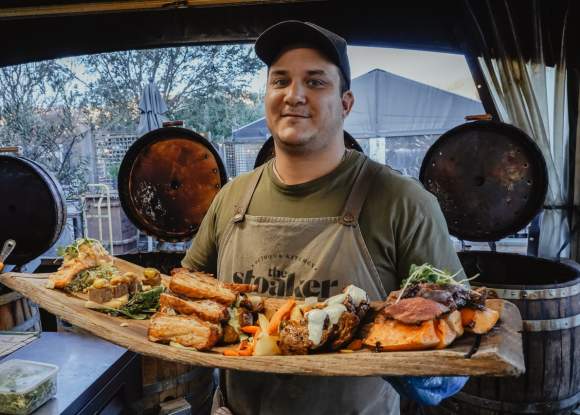 Five Must Do Foodie Experiences