'Two Wheels Good'

When I go for a ride, as I still do now and then, I see myself as setting out on yet another adventure, the rolling, twisting, turning road before me. There's time to reflect and muse, to enjoy the sights and smells, the wild thyme and the new-mown hay, for instance, the sounds of the whoo-ing and haa-ing of the wind in the trees and the swishing of tussock grass in nor'westerly gusts – nature's music … The skyscapes entrance, the landscapes astound me, and feelings for those I know and love flow through me.
Brian Turner, Boundaries: People and Places of Central Otago
A Feast for the Senses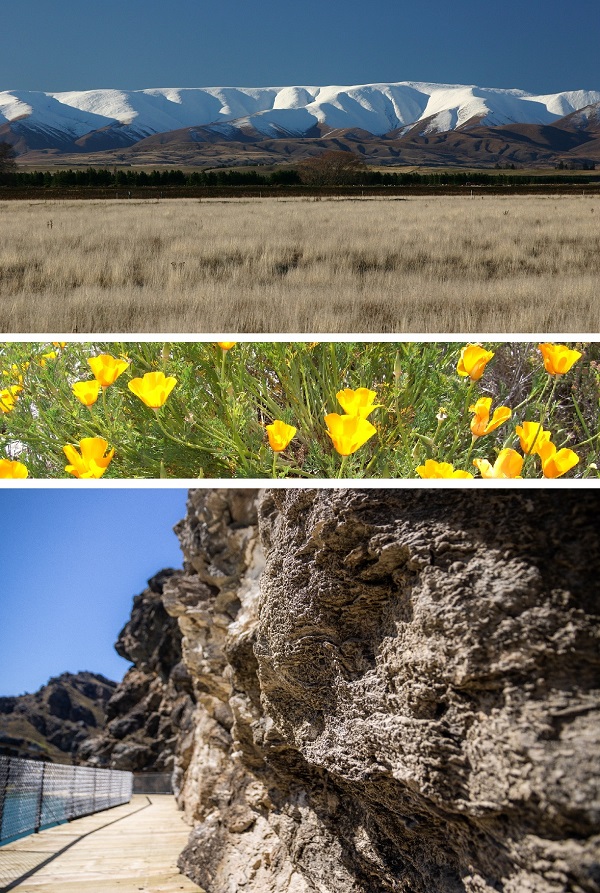 Cycling in Central Otago is a feast for the senses. The sight of big skies, bold mountain ranges, rolling plains and waters in every hue of blue. The feeling of shimmering summer heat, crisp winter air or a warm nor' wester. The smell of summer fruit, autumn leaves and wild thyme. The solitude and silence beyond your own deep breathing and the whirring of wheels.
This is a place where bike trails blend naturally into the landscape –whether cutting a track across the Maniototo Plains, tracing the edge of mighty Clutha Mata-au River, or zigzagging across the craggy face of Flat Top Hill. Journeys present ever-changing frames of our proud ranges –Dunstan, Hawkdun, Raggedy, Knobby, Cairnmuir, Pisa, the Old Man Range.
Rides are a riot of colour and texture. Surreal blue lakes against sunburnt-brown hills and fruit trees in rosy, luscious flush. Bright orange poppies and yellow gorse amidst vibrant green poplar and willow. Rugged outcrops of layered, lustrous schist. Wiry golden tussock. The dark green crunch of dry wild thyme. Leafy rows of grapevines and determined, industrial lines of dams, bridges and viaducts. Glassy lakes, swirling eddies, spiky hoar frost and blankets of snow.
Otago's history is revealed along old pathways and backroads. Hints are given in place names – Rough Ridge, Boundary Road, Coal Creek, Blackstone Hill, Fruitlands … Around every corner another chapter unfolds.

'YOU THINK YOU'RE THE FIRST PERSON
TO GO SOMEWHERE, THEN YOU COME ACROSS OLD RUINS BURIED IN THE BUSH.
THE BOYS WENT EVERYWHERE LOOKING FOR GOLD.
WE'RE CHASING THEIR TRAILS.'
Phil Oliver, Altitude Bikes
Kath Kelly rides all year around and loves it. As a child she cycled 5km each way to school and back from the family farm in Ettrick. 'We're conditioned to all weather conditions, from extreme heat to freezing cold,' says Kath, now a champion multi-sport athlete. 'We're born and bred hard down here.'
But you don't have to be particularly hardy or fit to be a Central Otago cyclist these days. No matter where you live in the region, there's great riding on the doorstep – from schoolyard skills areas and the rocky tracks around the Alexandra Clock, to the pretty waterside tracks around Cromwell and along the Clutha Mata-au River.
Spend any time here and you'll see cyclists everywhere. Commuters scooting through town, roadies racing around the backblocks, easy-riders rolling through the countryside, BMX riders flying around backyard laps, and mountain bikers scrambling over single track.
Such is the sheer number and variety of cycling options that Central Otago rightly stakes a claim as New Zealand's best place to ride a bike. And as the locals will tell you, there's something for everyone, and no two rides need be the same.
In the last 30 years or so, cycling has become a big part of local life as the community has created trails, clubs, cycle tourism and more. You could be forgiven for thinking Central Otago is bike mad. And you'd be right.
'NOT EVERYONE WHO LIVES HERE WOULD CALL THEMSELVES A CYCLIST,
BUT EVERYONE HAS HAD SOMETHING TO DO WITH OUR TRAILS AT SOME TIME OR OTHER.
THAT'S MADE IT EASY FOR OUR CYCLING SCENE TO GROW AND DEVELOP.'
James Williamson, Cycle Shop Owner & Coach
A Love Affair with Cycling

Central Otago's love affair with the bicycle began with the ten-speed, which arrived in New Zealand in the 1970s. The region's quiet and picturesque roads proved perfect for getting some speed up.
In 1990 a group of local enthusiasts formed a road cycling club. Meeting every Sunday in summer, it lives up to its motto of 'more fun in the sun' for its spectacular courses, family-friendly social events, and fine weather.
Encouraged by parents who were early members, James Williamson grew up in the club, eventually becoming a pro rider abroad. As his generation has reached adulthood, so the cycling scene has matured alongside as mountain biking, BMX and other types of riding have gained momentum.
The biggest change has been the growth of Central Otago as a mecca for leisure cyclists. This was kick-started by the creation of the Otago Central Rail Trail, New Zealand's original 'Great Ride.'
The trail was born out of tough times. Back in the 1990s, the rural community was doing it hard, the economic downturn in farming meaning towns were losing shops, garages, post office and schools.
When the pin was pulled on the historic railway between Middlemarch and Clyde, the locals hatched a bold and ambitious decision to repurpose the 150km line as a cycle trail. After six years of hard graft, the Otago Central Rail Trail opened in 2000.
'The rail trail was a first for New Zealand', says Neville Grubb, the Alexandra bike shop owner who founded tour company Trail Journeys. 'Cyclists could ride for four days in a row without going on the road. It was a whole new perspective on cycling.'
The trail steadily gained in popularity as word spread of its gentle terrain, stunning scenery and warm welcomes from the locals – farmers, publicans, shopkeepers, everyday folks on the street. Two decades on, towns have been rejuvenated and countless new friendships forged as visitors have enjoyed authentic hospitality alongside a kaleidoscope of Central Otago life.
Spectacular railway tunnels, viaducts, cuttings and much more – handmade from local materials – stand testament to the ingenuity and hard work of early engineers, stonemasons and labourers who toiled away on the line for several decades from the 1880s.
Nearby, other historic gems such as Daniel O'Connell Bridge, Hayes Engineering Works and Gilchrist's Store bring more bygone days vividly back to life, further enriching what is now known as one of New Zealand's best multi-day trails.
'THE OTAGO CENTRAL RAIL TRAIL HAS BEEN THE BIGGEST
THING FOR THE REGION SINCE THE GOLD RUSH.'
Graeme Duncan, Wedderburn Cottages
Other Great Rides
The rail trail inspired the birth of Central Otago's other two Great Rides, after Roxburgh resident Rod Peirce rode the trail with his brother. Although not much of a cyclist, Rod thought the Teviot district could benefit from a bike trail, too.
Rod soon roped in a few locals who cranked into action, eventually delivering not one but two trails in the Teviot Valley – the Roxburgh Gorge and Clutha Gold Trails. Opened in 2013, the two linked trails take in a remarkable array of sights and scenery as they wind along the mighty Clutha Mata-au River.
Just downstream from Alexandra is the eye-popping Roxburgh Gorge, an otherworldly landscape of angular schist outcrops and hidden heritage sites such as Mrs Heron's humble stone cottage in its isolated riverside spot.
Below the striking Roxburgh hydro dam, the trail meanders down the picturesque Teviot Valley, blanketed in orchards and farmland and backdropped by the bald mountain ranges.
Human history – from Māori moa hunting through the gold rushes and beyond – is captured in evocative, trailside storyboards. The river's swirling blue waters, birdlife, wildflowers, rare native shrubs and so much more – add colourful layers that surprise and delight.
Millers Flat resident Kath Kelly says she never takes the spectacular scenery along the Clutha Mata-au trails for granted. 'I love it when the manuka is flowering and the willows are bright green. Autumn's pretty amazing too, with all its amazing colours.'
It's not hard to see why the locals love their Great Rides and other recreational trails so much. They provide a way to keep active, enjoy the outdoors, and spend time with family and friends. They also offer visitors a way to explore the region at the perfect pace.
But the trails also connect Central Otago's communities, not just physically but in working together for the common good – from landowners, DOC, the council and other organisations, to smaller groups and individuals who donate, volunteer or contribute in other ways.
Picture – if you will – a lone woman on a bicycle, a small dot rolling slowly across a vast Central Otago landscape. The roads are rough, the climate extreme. There are few places to pause for sheltered rest. Befitting of the late 1800s, the lady wears cumbersome clothing and rides a heavy, old-fashioned bicycle with just a single gear.
The courageous and hardy trailblazer is Hannah Hayes, wife of engineer Ernest who will leave a lasting legacy as a maker of farm tools. Hannah is his travelling saleswoman, cycling far and wide from their home in Oturehua throughout the Maniototo and as far away as the Mackenzie Country.
Ever the inventor, Ernest designs a new kind of wheel to make Hannah's journeys easier. A model of his prototype can be seen today at Hayes Engineering Works historic reserve, right on the Otago Central Rail Trail.
Back then, cycling was an important mode of transport. Nowadays, most folks ride for the pure pleasure of it. And for mountain bikers, in particular, it's the extreme elements that Hannah Hayes contended with that now make the region such a great place to ride.
Many rough, tough local trails are now lauded as some of the best in the country. Linger & Die, Flat Top Hill, Boot Hill, Bannockburn, the Old Coach Road … these and many others draw riders from far and wide.
The terrain is just about as rugged as it gets. Gut-busting climbs and exhilarating descents. Super-narrow single track with treacherous drops. Jagged schist, loose gravel, big rocky outcrops.
Dougal Hiscock has taken advantage of this epic natural playground both as a rider as a businessman. He started mountain biking in the first wave, in the late 1980s. Now he builds world-class bike suspension from his Alexandra workshop, and says that unforgiving local conditions are perfect for testing his designs to the limit.
'There are plenty of other places around the world that have rocks,' says Dougal. 'But they're often older and more weathered. They're not as damaging and don't push suspension speeds as high. Our local conditions drive our technical progress.'
Alexandra bike shop owners Neville Grubb and Ritchie Bailey were perfectly positioned to spot Central's potential, suggesting back in 1992 that the region had huge potential to become a MTB mecca. They were right.
As the bikes got better, so did the trails as a community formed around the sport. In 2003, the region stamped its mark on the map when it held the Otago Southland Secondary School Mountain Bike Champs, the first such competition ever in the South Island. Expanding to become the South Island champs the following year, it was held in Alexandra until 2008.
Mountain Bikers of Alexandra (MOA) formed in 2012. An energetic and inclusive club catering to all ages, it has taken mountain biking to the next level with regular rides, events and trail building.
Their home turf is Flat Top Hill on the edge of Alexandra, home to a growing trail network. In their essential guidebook Classic Mountain Bike Rides of New Zealand, the Kennett Brothers rate Flat Top Hill in their top ten rides.
In 2019, the legendary Pioneer enduro MTB event was held on the trails around Central Otago and Queenstown. Visiting contestants were blown away, some saying the tracks were the best they've ever ridden – anywhere in the world.
The next big thing is set to be 'gravel biking', a blend of road and mountain biking on unpaved terrain. Unsurprisingly, Central Otago is perfect for this exploding adventure sport, serving up the right kind of rough stuff with the bonus of spectacular mountain backdrops. And you can bet your bottom dollar that the local community will be ready and raring to go.
'PEOPLE WHO HAVE GROWN UP RIDING HERE DON'T REALISE
HOW GOOD THEY ARE UNTIL THEY RIDE SOMEWHERE ELSE.'
Dougal Hiscock, Shockcraft Bike Suspension
Love of Cycling
In the space of one generation, Central Otago has evolved into one of New Zealand's best places to ride. Cycling has evolved from a ten-speed sport and school-commute into a wide-ranging form of recreation enjoyed in all corners of the region, by people of all ages and abilities.
A love of cycling has been fostered throughout the community. Riders who started hitting trails three decades ago may now have children and grandchildren in tow. Many local kids get on two wheels almost as soon as they can walk.
Meanwhile, people with less puff or fewer skills are taking to e-bikes like ducks to water. Cycling has never been more accessible to riders of all ages and stages, which means more people on bikes, more often, with all the benefits that brings.
As co-owner of Clyde's Bike It Now!, Kathryn Fletcher has seen this growth up close. 'Cycling is great for health and wellbeing, but it also has huge social benefits. E-bikes have made cycling more family friendly and attracted even more riders from outside Central Otago. It's added to the whole fabric of our region.'
For local and visitors, the riding just gets better by the year. The newest addition is the Lake Dunstan Trail, a 41km leisurely link ride from Cromwell to Clyde taking in Bannockburn's vineyards as well as stunning river and lake views. Also on the horizon are trails linking to Queenstown via the Kawarau Gorge, and from Cromwell through to Wanaka.
Central Otago is set to keep rolling on.
Related Stories
The Teviot Valley Story

This is the Teviot—a diverse and special place, endowed with nature's goodness and dynamic, strong communities. Here the land gives generously and the people do too.

Read more

about The Teviot Valley Story

The Cromwell Story

Today, New Zealand's farthest inland town has a new, uplifting energy as people are attracted to the Cromwell Basin's sunny, dry climate, and the work and lifestyle opportunities. Now over 20 years on from its beginnings, Lake Dunstan has become the jewel in the Cromwell Basin's crown - a glistening, inviting adventure playground.

Read more

about The Cromwell Story