The Cromwell Story

In the awe-inspiring Cromwell Basin, a spacious panorama of sparkling water and rugged hills awaits. Light and shadow playfully bathe the spectacular, bronzed landscape where chiselled hillsides frame Lake Dunstan's revitalizing, blue splendour.
This uplifting place is unrestrained - expansive and majestic in a wondrous widescreen vista. The dry, clean air refreshes the soul. There's breathing room here. This mighty, big-hearted basin formed millions of years ago when glaciers retreated. Today it resounds with optimism and a sense of freedom - endowing a candid, relaxed energy mirrored in the friendly, down-to-earth people who live here.
The reborn town of Cromwell is the basin's happening hub. Proudly wedged between the mighty Kawerau River and Lake Dunstan, this is a re-energised and forward-looking town – a place of shiny promise as it was for European and Chinese goldminers who sought their fortune over a century ago.
In 1862, Horatio Hartley and Christopher Reilly discovered gold in the Cromwell Gorge, triggering the Dunstan gold rush. A gold town was established at the junction of the Kawerau and Clutha Mata-au rivers. Initially named the junction, it was later renamed Cromwell.
Gold fever fanned out across Otago. In the Cromwell Gorge, on the Kawerau River and at nearby Bannockburn, miners and then mechanical dredges scoured the earth and riverbeds.
New Riches
Today, the silty soils of Bannockburn and the wider Cromwell Basin gift new riches.
Cromwell is a plentiful and picturesque wine-growing area, known for its pinot noirs crafted by the best of New Zealand's winemakers. The Cromwell Basin has become Central Otago's most important wine-growing sub-region and a centre for its winemaking facilities. The warm, semi-arid climate, schist soils and seasonal temperature extremes, make it the perfect place to grow grapes. Over the past decade, the wine-growing industry has flourished here. There are now three sub-areas: Bannockburn, Lowburn Valley and Pisa Flats, and Bendigo.
In this most southerly of wine-growing regions, the majority of plantings are in pinot noir grapes and local winegrowers have an international reputation for excellence in producing pinot noir.
The unique, natural advantages of the Mediterranean, semi-continental climate and sandy, free-draining soils complement the hard work, tenacity and knowledge of local artisan fruit growers who produce some of the world's finest fruit. The expertise, skills and good old-fashioned resilience of these orchardists is passed down through the generations.
It's no surprise, therefore, that Cromwell is famous for the giant fruit sculpture that greets visitors to town.
Nearly half of New Zealand's export cherries are produced in the Cromwell Basin, prized internationally for their intense flavour and distinctively bold, complex sweetness. Delicious stone fruit including peaches, apricots and nectarines are also grown locally.
Confronting Change
Cromwell's present-day positive outlook belies a more recent past that brought confronting change and heartbreak. The construction of the Clyde Dam and the inundation of Lake Dunstan in 1992-93, meant for some the loss of homes, livelihoods and landscapes. Cromwell entered an unfamiliar, re-created world, as the submerged main street was replaced by a new purpose-built mall located some distance from the original retail centre.

The winding, raw riverscape of the Clutha Mata-au disappeared as the river swelled to become a 27km lake extending north of Cromwell and south through the gorge to Clyde. The captivating, natural beauty of the swirling, powerful energies and colours of two of New Zealand's mightiest rivers meeting at the junction was gone forever, replaced by a more purposeful flow.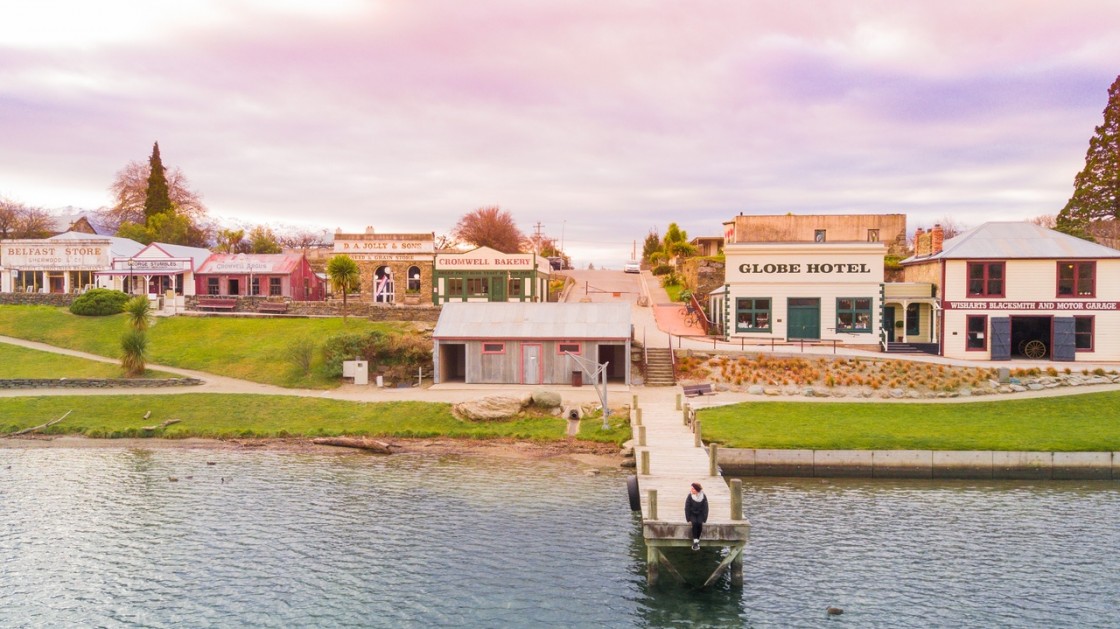 Cromwell Heritage Precinct
Today, some of the original buildings from Cromwell's main street can still be enjoyed in the Cromwell Heritage Precinct, a lovingly created keepsake of Cromwell's early life as a thriving gold town.

Community volunteers, local tradespeople and artisans skilfully reconstructed and relocated these buildings to form this charming historic precinct nestled on the edge of Lake Dunstan. Here, visitors and locals enjoy a special glimpse of what's affectionately known as `Old Cromwell', and marvel at the magnificent lake and mountain vistas.
Understated Wonders
Atop the natural wonder of the Sugarloaf – an outstanding example of an ancient gently folding terrace formed millions of years earlier by a melting glacier - the awesome expanse of the Cromwell Basin is sketched out below, defined by water and land.
The endangered and uncharismatic Cromwell chafer beetle lives quietly on New Zealand's only insect conservation reserve, an 81-hectare patch of shallow, sandy Department of Conservation land on Cromwell's outskirts. A threatened species with the same status as the kākāpō, this tiny red-brown beetle keeps a low profile, living mostly underground.
At the North end of Lake Dunstan is another surprise, here in the 243ha Bendigo wetlands lives the threatened native crested grebe, as well as other water fowl and native fish.

Further up the road at Bendigo Station near Tarras is the former home of a unique creature of a different kind - New Zealand's most famous woolly philanthropist, Shrek the sheep. Found in a cave on the high-country station in 2004, Shrek's weighty 27kg fleece led him to a life of fundraising and fame, raising money for Cure Kids and the Tarras School, and lifting the international profile of New Zealand's fine wool industry.
For Outdoor Enthusiasts
For outdoor enthusiasts, the pleasures are many in the Cromwell Basin. Boating and fishing on splendid Lake Dunstan; golfing at New Zealand's most inland links course where sandy dunes and marram grasses are negotiated, and cycling or walking in spectacular hills and valleys, where the ancient stories of goldmining and farming reverberate.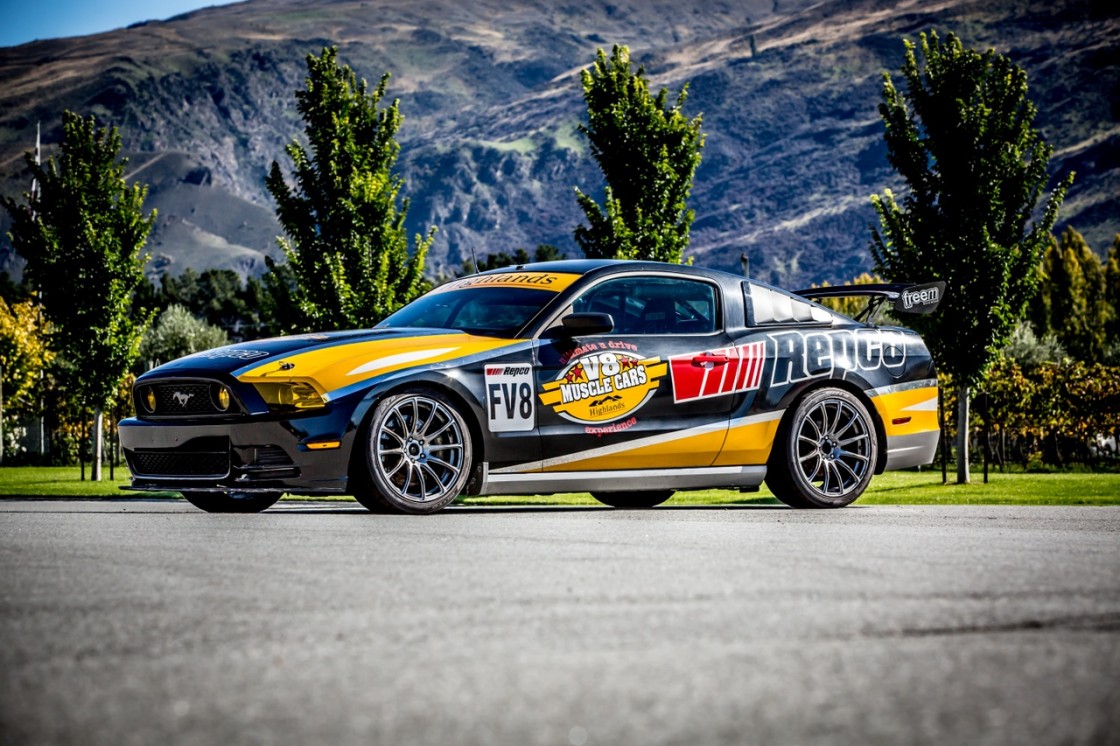 A motorsport mecca
In Cromwell, engines are all revved up for motorsport enthusiasts.
Cromwell is a motorsport mecca, a petrol-head adventure playground with something for everyone. From the 4.1km international racing circuit of Highlands Motorsport Park to the Central Motor Speedway, the Central Otago Motorsport Club's street sprints and the Cromwell Classic Car and Hotroad Show, there's plenty to get your wheels spinning amid all this motor head glamour.
Cromwell Today
Today, New Zealand's farthest inland town has a new, uplifting energy as people are attracted to the Cromwell Basin's sunny, dry climate, and the work and lifestyle opportunities. Now over 20 years on from its beginnings, Lake Dunstan has become the jewel in the Cromwell Basin's crown - a glistening, inviting adventure playground.
Dynamic and positive, the Cromwell basin is Central Otagos' wild child come of age.