The Manuherikia & Ida Valley Story

The Manuherikia and Ida Valleys are proud, timeless places. Edged by sturdy mountain ranges and crumpled velvet hills, they are soul country.
Here the light paints the rugged landscape with wonder and beauty, dancing playfully in folds and creases. Nature's colour palette can be soft or intense: in tune with the seasonal rhythms of the fierce summer heat or icy winter chill.
A sub-tropical wetland?
In the mists of prehistory, a sprawling 5600km super-lake stretched across the Manuherikia and Ida valleys and far beyond. Today, a treasure trove of discovered fossils has revealed a glimpse of ancient life in this prehistoric, sub-tropical wetland we call Lake Manuherikia. A myriad of wildlife, including the world's most southerly-known crocodile, turtles and short-legged flamingos, lived by the lake 16-19 million years ago.

Later the earth cooled. Tectonic activity uplifted the Southern Alps forming Central Otago's mountain ranges and valleys. Over millions of years, streams like the Idaburn sculpted new westward paths through the Raggedy Range's schist bedrock, carving a channel that linked the Manuherikia and Ida valleys to craft the magnificent Poolburn Gorge.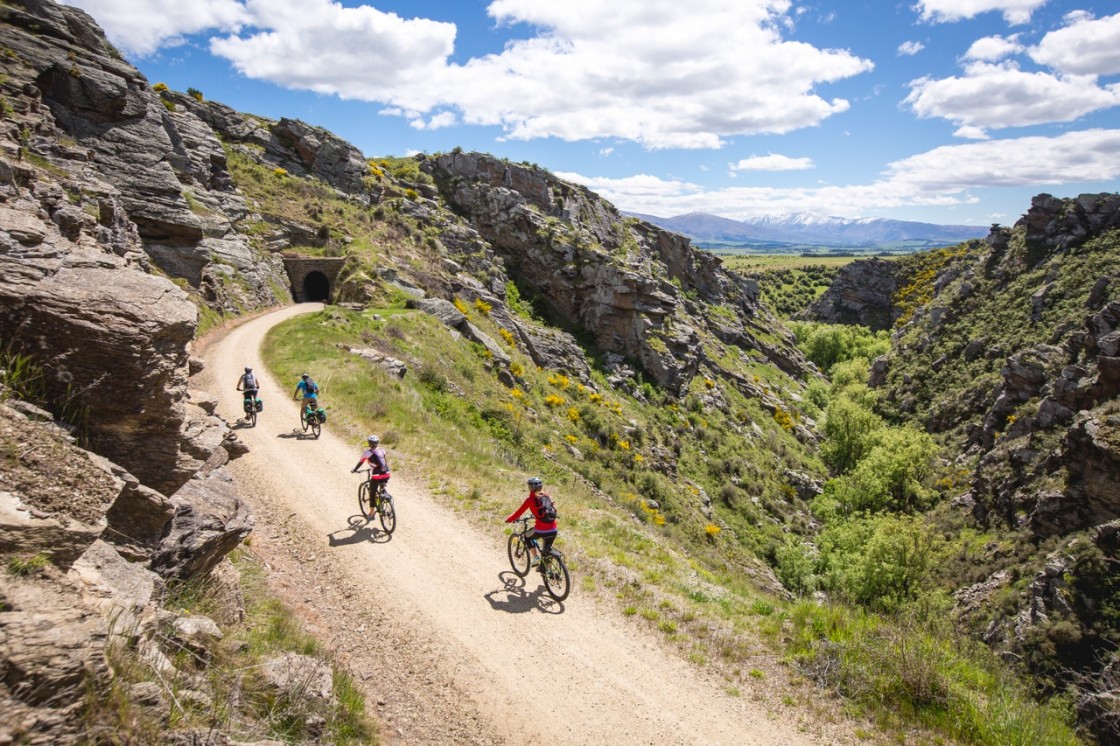 Cutting Tracks
Built in the early 1900s as a link to Otago's heartland, the original railway was constructed through inaccessible terrain with picks, shovels, hammers and dynamite. In the Poolburn Gorge, two tunnels were cut through rock and bluffs and a mighty viaduct erected—at the time New Zealand's third highest. Cutting a track through the unyielding landscape was tough, demanding work.
Today the Poolburn Gorge is a pathway of another kind, travelled by eager cyclists who experience its rugged beauty riding the Otago Central Rail Trail.
A blueprint for life
This place of extremes is only suited to hardy folk. In the 1850s, Scottish immigrants Watson and Alexander Shennan established Moutere and Galloway stations—Central Otago's first pastoral runs—and Otago's first Merino stud flock.
These early sheep stations laid the foundations for an industry that is still the mainstay of the local economy. They set a blueprint for life in these splendid valleys, instilling a spirit of determination and resilience that endures today.
Here, proud resourceful farming folk depend on the big hearted loyalty of neighbours. Friendships are deep and intergenerational—they've got your back and there's always time for a yarn.
Old Fashioned Values
Old-fashioned values of integrity and trust are evident in places like Gilchrist's Store in the Ida Valley where nostalgia melds with present-day bustle. Owned by the Gilchrist family for 87 years, the store has anchored the community since 1902. As well as selling groceries and delivering bread, milk and mail, it's where gumboot-clad locals enjoy a laidback yarn.
Whatever the season—whether it's duck shooting in May or a true-blue annual sporting event—cooking up your own fun is part of life
The Wooden Cup rugby match is one such occasion—a spirited encounter between the Becks-Lauder and Cambrian-St Bathans' communities that's also a good old-fashioned country reunion.

At the St Bathans' domain, people of all ages and dispositions tussle for the Cup before heading to the Vulcan Hotel for a beer and a yarn. In small communities like St Bathans, the `local' is a traditional gathering place for friends, families and neighbours.
Social Traditions
Activities such as the Brass Monkey Motorcycle Rally are more adventurous social traditions that attract bikers from across the country. This annual mid-winter's ride to camp out at the Idaburn Dam is one of New Zealand's best-known and longest-running motorbike events.
Swapping steel-horse stories beside a roaring bonfire, there's a singleness of spirit, a levelling, and liberation under the freeing beauty of the Ida Valley's big, starry sky.
Mid-winter is also a time for the ancient Scottish game of curling. When a hoar frost shimmers and the Idaburn Dam has a coat of thick ice, curlers gather for the national Bonspiel—often finishing with a warming wee dram.

In these valleys, five dams supply water for irrigation schemes that supply local farming communities. Most were constructed in the 1930s by men on unemployment schemes during The Great Depression.

The dams are also reflective, peaceful places for locals and visitors. Resting under moody, wide skies and surrounded by tussocks and craggy schist tors, there's time to simply take it easy here, or enjoy the simple pleasures that fishing brings.
These remote dams are tranquil sanctuaries resting in a timeless, wilderness land. Here nature calms your soul and the world is still. In these valleys, water is a precious resource that early goldminers also used to modify the landscape and accumulate wealth.

The Blue Lake
Fringed by a scarred landscape and stark, white sandstone cliffs, the Blue Lakes bleak beauty today masks a history of innovation, industry and despair.

It was here that Scottish goldmining entrepreneur, John Ewing, began digging for gold in the 1870s, using what was thought to be the world's highest hydraulic elevator to raise the gold-bearing wash. What remains of his ambition is the wonder of Blue Lake.
A stone's throw away, St Bathans village gently reminds us of those giddy, goldrush days that shaped lives and land.
Ophir - Changing Times
The village of Ophir flourished in the goldmining heydays of the 1870s and 1880s. Go-ahead locals built a village that was ahead of its time—a statement of opulence amidst a desolate, remote landscape. It featured a thriving commercial and service centre with a post office, jail, church, hospital and police station, not to mention streets with schist-stone curbing. They lobbied the government for a bridge across the Manuherikia River, that would link the village to the west. In 1880, a single-lane suspension bridge was officially opened.
Named in honour of Ophir's Irish settlers, the Daniel O'Connell bridge is one of only two single-lane suspension bridges in New Zealand still used by vehicles.
At the end of the 19th century, the newly-built Otago Central railway line bypassed Ophir. The village slipped into history as Omakau became the favoured commercial centre. Today Ophir retains its heritage charm, including New Zealand's oldest continually-operating post office.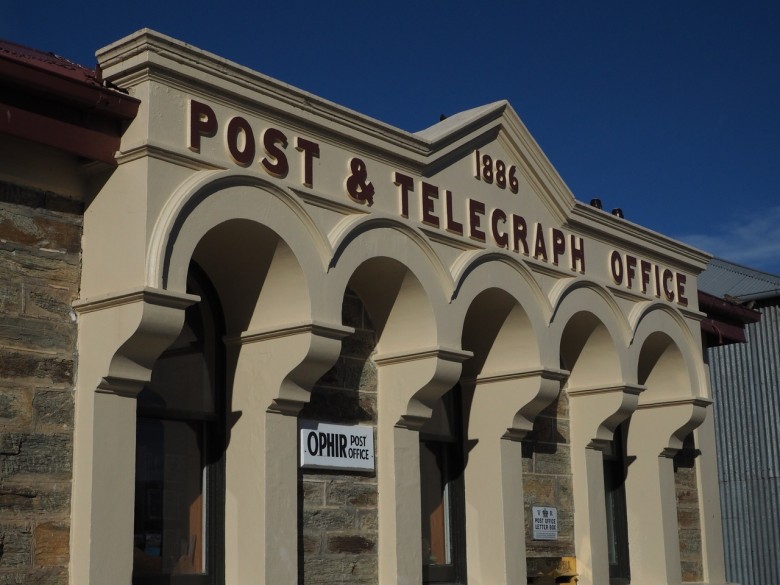 Ingenious inventions
In 1895, across the Raggedy Range in the remote Ida Valley, pioneering inventor Ernest Hayes began manufacturing farm tools at an engineering shop he built at Oturehua. His ingenious labour-saving inventions would become world-renown and included a portable rabbit smoker and a fence-wire strainer that is still used today. Today, visitors to Hayes Engineering Works delight in seeing the workshop's original ingenious mechanical systems operating.
Ernest's initial business success was mostly due to his wife Hannah's perseverance as a saleswoman. Carrying samples of Ernest's first invention—a rabbit-bait cutter—on her bicycle, she pedalled for miles through the stark landscapes promoting and securing sales. From remote 19th century Otago to the world—Hayes Engineering tools and equipment have eased the back-breaking work of pastoral farming for generations.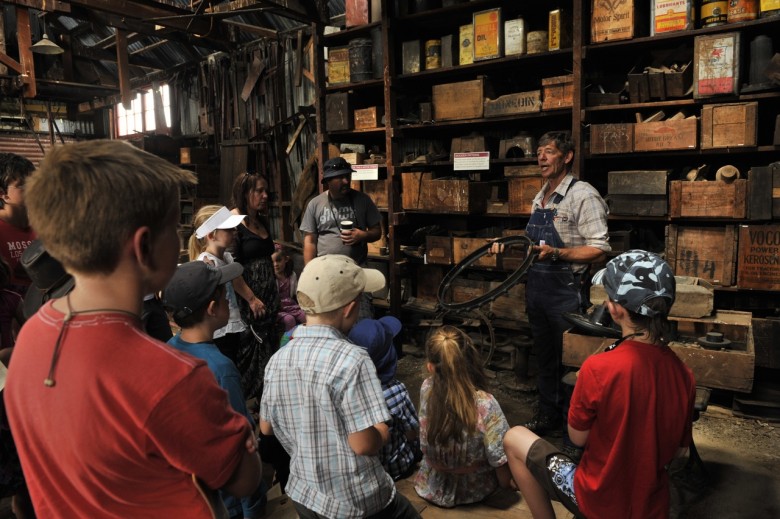 Ida valley & Manuherikia - A place of extremes
Today in these magnificent, expansive valleys, communities continue to embrace the delight, challenge and privilege of life in this place of extremes. Contented, resourceful and proud, these communities belong in this wide, wonderous space where the silent, everlasting land waits patiently and the summer star stands still.
Related Stories
The Teviot Valley Story

This is the Teviot—a diverse and special place, endowed with nature's goodness and dynamic, strong communities. Here the land gives generously and the people do too.

Read more

about The Teviot Valley Story

The Cromwell Story

Today, New Zealand's farthest inland town has a new, uplifting energy as people are attracted to the Cromwell Basin's sunny, dry climate, and the work and lifestyle opportunities. Now over 20 years on from its beginnings, Lake Dunstan has become the jewel in the Cromwell Basin's crown - a glistening, inviting adventure playground.

Read more

about The Cromwell Story